Wanted apprentice trug maker, full details below. Apprenticeships in established traditional crafts companies are rare so this is a great opportunity for the right person.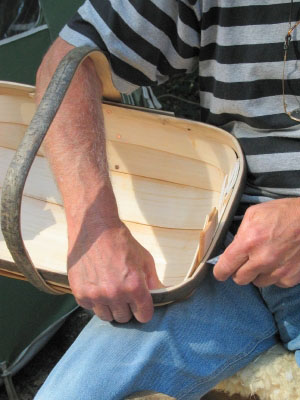 Job Description – Apprentice Trug Maker
Cuckmere Trug Company, Berwick Court Farm, Alfriston Road, Berwick, East Sussex, BN26 5QS.
Job Description: Apprentice Trug Maker
Department: Royal Sussex Workshop/South Down Workshop
The Company's Apprenticeship Scheme lasts for three years and is aimed at the apprentice becoming a skilled Craftsman Trug Maker after that period of training. Applicants should, therefore, be prepared to undertake the scheme enthusiastically for the full term of the apprenticeship.
A.
PURPOSE
a) To manufacture Sussex Trug Baskets and other craft related products.
b) To work conscientiously as a member of a team based operation within own work area and spanning all Workshops.
c) To ensure that the Company's production and despatch targets are achieved for designated Workshop.
d) To learn how all of the Company's products are made.
B.
DUTIES
a) To produce good quality products that the Company can offer for sale to its customers with pride.
b) To work with the Master Trug Maker in charge of own designated Workshop and other staff therein to meet the Company's Production Targets.
c)
To ensure that all customers' orders are despatched on time.
d)
To accept individual responsibility for advising Master Trug Maker of immediate and future raw material requirements, when identified.
e)
To accept individual responsibility for the implementation and observance of Health & Safety and other statutory regulations.
f)
To ensure a clean and safe working environment for self and colleagues.
g)
To accept individual responsibility for advising the Master Trug Maker of any dangerous or suspect machinery or procedures and for advising him/her of any accident, dangerous occurrence, condition or procedure.
h)
To carry out own work in a cheerful, friendly and helpful manner as part of a closely knit Team.
i)
To take pride in producing a first class, craftsman made crafts products.
j)
To attend shows for the purpose of demonstrating and selling the company's products. Shows may be in Great Britain or elsewhere in Europe as required. This will involve weekend work away from home during the show season.
To learn and master the various techniques involved in making the Royal Sussex Traditional Trug and the South Down Contemporary Trug. This will involve mostly hand tool work but, after the age of 18 will also include some use of wood working machinery, such as rip saw, band saws and sanders. It is anticipated that the successful applicant will also be involved in creating crafts other than Trugs.
3. RELATIONSHIPS
Accountable directly to the Master Trug Maker responsible for your designated Workshop but working with, and learning from the other Trug Makers in the two workshops.
4. PHYSICAL CONDITIONS
The position involves purely manual work. The jobholder is expected to learn all aspects of the Company's production within the Royal Sussex and South Down Trug Workshops and become proficient in their implementation. This position includes varied work as directed by the Proprietor and some heavy lifting on occasions.
The job holder will enjoy a close working relationship with the Proprietor, Master Trug Maker and other members of staff and daily contact with members of the public and trade customers.
6. ECONOMIC CONDITIONS
Hours: 0830 – 1300 and 1400 – 1700 on days designated within Contract of Employment.
Overtime is compulsory if required. Staff are expected to finish the work that has been set for them, and assist their colleages to finish, before quitting for the day.
Wages: £2.75 per hour at age 17 – 19 and £4.98 per hour at age 20 and over, paid one week in arrears.
Annual Leave: Statutory Annual Holidays, plus public holidays as recognised by the Company, or time off in lieu. Holidays will be taken in arrears. One annual holiday week to be taken at Christmas/New Year break.
a)
The preferred age range is 17 - 21 years, depending upon the candidate.
b)
Must be fit and willing to work hard, doing long hours when needed to get the job finished on time for our customers.
c) Employee must be able to commit himself/herself to the Company and to making good quality products within a closely-knit Team environment.
d) MUST have reliable transport or be able to travel in on time on public transport. Times can be varied to allow for public transport schedules.
Following the successful completion of the apprenticeship period the company would anticipate engaging the applicant as a Craftsman Trug Maker. Following graduation it is expected that the new Craftsman would also be willing to attend courses in other craft products in order to bring enrichment to the company for the future.
Video of trugmaking