There seems to be a real movement gathering momentum asking questions about how we live our lives, particularly looking at the benefits of working with our hands and making things whether as a profession or as a hobby.
Tomorrow a new book is released in the UK written by Mark Frauenfelder the founder of the most popular blog in the world,
Boing Boing
with more than 5 million unique visitors a month.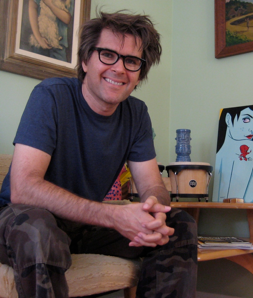 It's called "Made by Hand" and is a celebration of reconnecting with the simple stuff. Here is a video where he discusses lots of folk who are simplifying their lives with a degree of self sufficiency and also his own experiments. I was delighted to see at 15.20 that he is into carving spoons.
The made by hand
website
Not having a TV I missed it but James May started a mans DIY TV show yesterday on BBC2 called
Man Lab.
He said "Like many people, I spend most of my working life typing at a computer. During the course of a normal day writing things for the telly, almost everything I do is – well, cerebral is too big a word for
Top Gear
, but you know what I mean.
After a day like that, an evening spent fixing things – messing around with a bicycle or doing a spot of DIY – is an immense therapy. It is very refreshing to do something with your hands, even if it's only to clean your shoes. Or take a clock to bits and put it back together. Or mend an old motorcycle."
All this follows on recent books the Craftsman by Richard Sennett and
Shop Class as Soul Class
by Matt Crawford both of which argue for a revaluing of hand skill.
Finally I wanted to share a rather wonderful animation of Ken Robinson's speech on the current state of education and how he believes it kills creativity.